Yamanaka Onsen has a long history of hospitality and has been receiving guests from all over Japan for over 1300 years.
There are a numerous sites of natural beauty and historical interest in the area, including newly developed tourist spots.
Kakusenkei Gorge
Said to be the most beautiful gorge in the Hokuriku Region, visitors enjoy strolling the well-maintained 1.3km trail between Koorogi-bashi Bridge and Kurotani-bashi Bridge. The views of the interesting rock formations and clear water cascading down the river change with the seasons. Also worth noting are the different styles of the bridges over the gorge. At the foot of Ayatori-bashi Bridge, the Kakusenkei River Café features viewing decks over the stream and it is open from April to October. Sweets using recipes created by renowned Chef Rokusaburo Michiba are served at the café.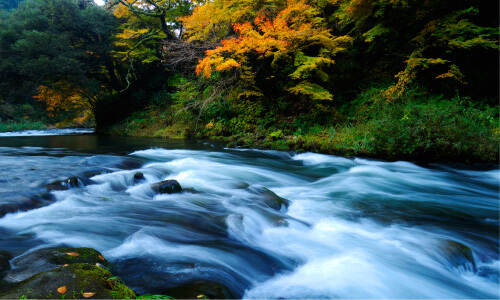 Koorogi-bashi Bridge
This handsome bridge was made of Japanese Cyprus Hinoki. The beautiful gorge provides an attractive backdrop for its traditional structure and ambience. It is said that the name of the bridge, 'koorogi–dangerous passage', comes from the fact that the trail that went over the bridge used to be very dangerous, or alternatively might refer to the sound of crickets–koorogi that rings in the autumn air.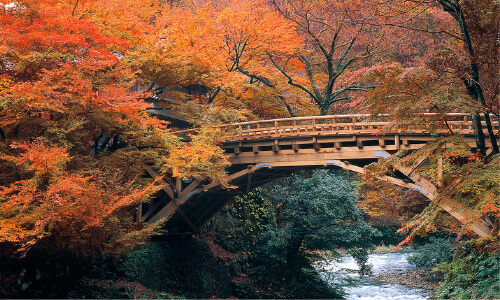 Ayatori-bashi Bridge
Located about the mid-way between Koorogi-bashi in the upstream part of the trail and Kurotani-bashi further downstream, Ayatori-bashi Bridge has a span of 94.7 metres and is only for foot traffic. It was designed by Hiroshi Teshigawara, head of the Sogetsu school of flower arrangement, with the concept of the Kakusenkei 'arrangement'. The S-shaped bridge in a bright violet colour is beautifully contrasted with the natural beauty of the gorge.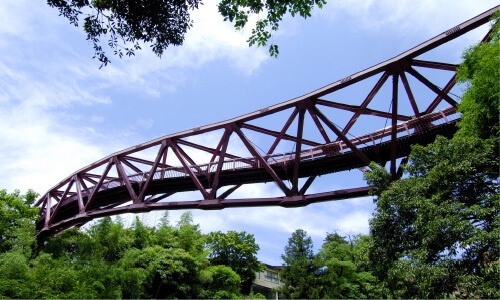 Kikunoyu Public Bath
The eye-catching buildings of the public bathhouses of Yamanaka Onsen were constructed on the historical location where the original bathhouse stood hundreds of years ago. The men's bathhouse features a grand Tenpyo-style façade and a hip-deep soaker tub. The women's bathhouse features an elegant curvy structure and the tub has both deep and shallow areas. Among the hot spring resorts of Japan it is rare to have two separate buildings serving the different genders in a public bathhouse.
Type of hot spring: calcium and sodium sulphate chloride 
Health benefits: neuralgia, join pain, chronic digestive disorders, arteriosclerosis, chronic skin disorders
Fee: Adult 440 yen Junior 130 yen Child 50 yen
Opening hours: 6:45 to 22.30, seven days a week, except during closures for maintenance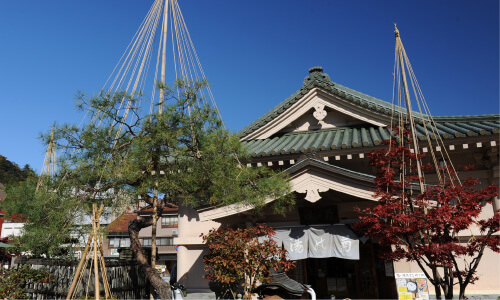 Yamanaka Lacquerware
You feel the lively breath of tradition in the town of Yamanaka Onsen. The art of lacquerware making was introduced to the area in the 16th century and Yamanaka has grown to be one of the biggest manufacturing centres in Japan. The many artisans and their studios that are engaged in lacquerware production are an inseparable part of the traditional culture of Yamanaka.